Homeschool Planning Guide
Because we have so much freedom as homeschoolers, homeschool planning can be overwhelming! Here is a simple 5 step process to plan a great year for your family.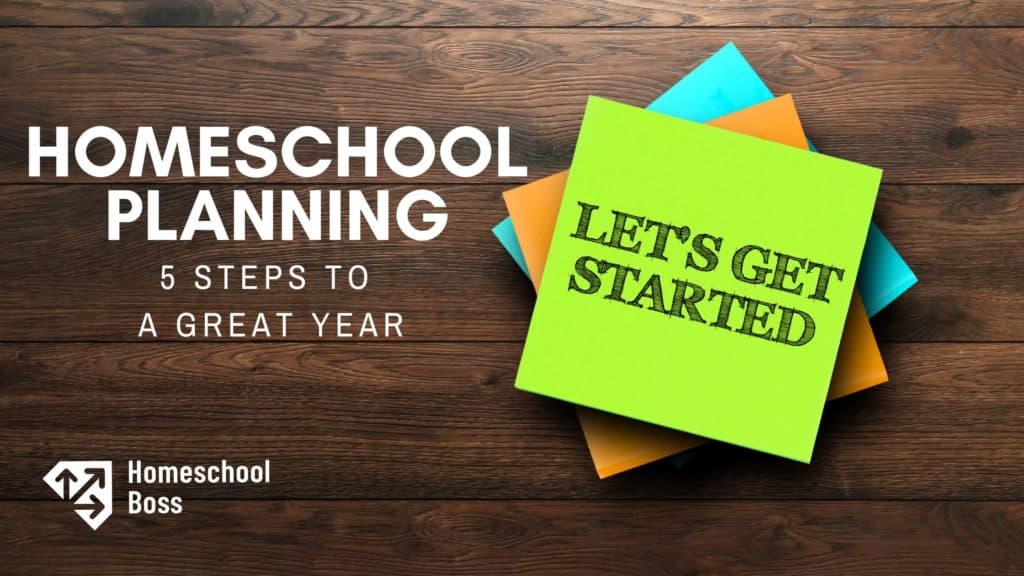 Homeschool Planning Guide Step 1: Assess & Reflect
The first step in planning is figuring out where you are now. Because homeschooling is a natural extension of parenting, a successful plan will consider your family life as a whole.
We recommend planning your homeschool year assessing four areas:
Academic
Health
Character
Social
Our worksheet will guide you as you assess your children in each area.
Evaluate each child's current strengths and weaknesses and whether they are growing in each area. For older kids, sit down and fill out the worksheet together.
Kids are more likely to participate cheerfully when they are part of the process.
Some thoughts to help guide your evaluation of each area:
Academics — We recommend starting with your child's NWEA® MAP® Growth™ scores. Are they meeting their growth goals?
Health — Is your family getting enough exercise? Are they enjoying it? What about sleep? Are there any medical needs that need to be accommodated?
Character — Are there any issues that need attention, or topics they are ready to learn more about? Do they have strengths you would like to encourage?
Social — Are you striking the right balance with social activities? Are they happy? Finding meaningful connections?
Homeschool Planning Guide Step 2: Set Priorities
As you plan your homeschool, your priorities will vary dramatically from child to child and year to year. For a kindergartner, your primary focus may be social, while with older kids, academics will likely play a larger role. For elementary school, you may prioritize exploring interests, while in high school you may be focused on completing the required coursework for college.
Make this year's goals about this year's needs. You may want to focus on supporting your child through a transition like the birth of a new sibling, moving, starting to homeschool, or going through a medical crisis.
Sit down with your spouse or a close friend and discuss your observations from step 1 and your long-term goals for each child, and decide what to prioritize this year.
Balance developing their strengths and attending to weaknesses. Think about what kind of learning works best for them, and what they need to be happy and relaxed. For teens and independent tweens, be sure to include them in the process— they may surprise you with what they want to take on!
Homeschooling works best when parents lead by example and are learning and growing, so fill one out for yourself too.
Step 3: Finding Resources
Now that you know what your homeschool planning guide goals are, it's time to look for resources, and brainstorm. As you are thinking about how to meet each child's goals, look for ways to meet multiple goals at once. For example, starting a history-themed book club could encourage a reluctant reader, act as your history program for the year, and provide social time. You could study nature or geology while hiking. As you make choices, consider how they impact your overarching priority for the year. Not every choice will be able to incorporate your top priority (sometimes a math curriculum is just a math curriculum), but work it in where you can, and try not to undermine it.
Where to Find Homeschool Resources
In-person Homeschool Classes
Local Homeschool Co-ops
YMCA
Local Businesses offering Afterschool Classes
Museums & Zoos
Word of Mouth from Local Homeschoolers
Online Homeschool Classes
Used Homeschool Curriculum
Local Used Curriculum Sales
Facebook Marketplace
New Homeschool Curriculum
Step 4: Put it All Together
Now that you have lots of options, it's time to choose which work together best for each child. Start with things you are sure you will continue from the previous year, then move on to meeting needs from the priority guide.
As you add to your plan, consider how your addition impacts the overarching priority, and whether it fits in your schedule and budget.
Be sure to leave a little room in both your schedule and your budget to allow for adjustments later.
Step 5: Assess & Adjust
Now that you have a homeschool planning guide, you need to be sure to check periodically that things you have chosen are working the way you envisioned and meeting the needs you intended them to meet. It can be easy to feel like the key to a successful year is making your kids work through your curricula, but it's most important to make the curricula work for you.
Set aside time once a month to go over your plan for each child and assess how well each resource on the list is working, and whether together, they are supporting your overarching priority. Then, make adjustments.
A few simple changes to consider:
Adjust the pace
Add more repetition/practice
Cut out busywork
Swap out bookwork for hands-on activities
Team up with friends to make a "club
Do the work at a different time or place
If small adjustments don't help, swap it out for something else— either one of the resources you didn't choose from step 2, or something new.
Also take the time to notice what is working well, and celebrate successes and highlights.
Uncategorized
Reading comprehension is important, but sometimes developing this skill can be challenging. See our guide for how to build a child's reading comprehension.
Tips
There's a lot to consider when homeschooling. See our guide for an understanding of the various learning and development theories for homeschool students.
Testing
There are many testing options available for homeschoolers. Read our guide to learn what computer adaptive testing is and why you should implement it.
For further questions about our homeschool planning guide, contact Homeschool Boss today.