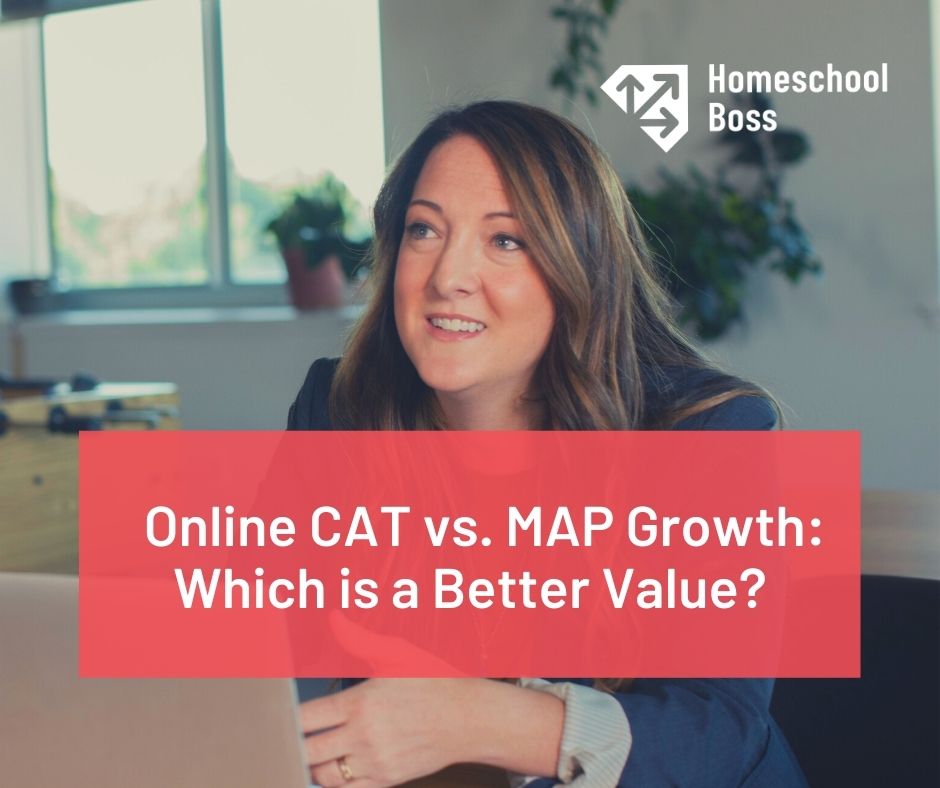 Homeschool parents looking for an untimed, online test often consider both the Online CAT test and MAP® Growth™, but how do they compare?
The online CAT is an option that many families like because it's familiar (lots of parents took the CAT when they were young) and cheap. Kids like the Online CAT because it often has easy questions and because students take the exact same test over a few different school years, it can become familiar. The online, untimed, unscheduled format can be convenient for families that want to test in the evenings or on the weekend. The Online CAT is a "fixed" test which means every student at a particular grade level answers the same questions. The students who get the most questions right get the highest scores. Some above-average kids enjoy the thrill of getting lots of questions right.
The Online CAT is an online version of the older, pencil and paper version of the California Achievement Test from the 1970s or 80s. The current publishers have turned it into a computerized test. While some of the test providers allow students to take it untimed, the Online CAT was intended to be a timed test for neurotypical students. If you decide to order the Online CAT, be sure to allow enough time to finish each section before you start it, because your progress may not be saved if you take a break.
Although school kids have been taking it since the 1980s, MAP Growth is fairly new to homeschoolers. While homeschoolers may be more familiar with the Online CAT than MAP Growth, US schools use MAP Growth widely. Teachers love MAP Growth because it gives them accurate information they can use right away. We aim to give homeschool parents the same experience. We offer the same up-to-date test and scoring used in schools today.
MAP Growth is a computer adaptive test that adjusts across grade-level to meet students where they are. Every student gets about the same number of questions right, and the difficulty of the questions determines their score. Because every student is getting the right questions for them, MAP Growth can more accurately measure their achievement level, especially for kids who are far from average. Kids who struggle with academics benefit from getting more questions at their level than they would on a fixed test like the Online CAT designed primarily for average students. Above-average kids get to stretch themselves and see some new kinds of questions they may not have been exposed to yet.
NWEA has designed MAP Growth to work well for a diverse group of students. All students test without time limits. The K-2 level has support for pre-readers built-in to the test, so they can test independently. For older students with reading disabilities like dyslexia, there is a built-in text-to-speech feature available upon request.
The computer system that supports MAP Growth is up-to-date, reliable, and secure. During testing, each time a student answers a question, that answer is saved immediately. This means that students will not lose progress if they take a long break or have computer or internet issues. The system is designed to handle the high demands of busy testing seasons. We have not had to cancel or reschedule any tests due to server issues this Spring.
MAP Growth results use 2020 norms to show how your child compares to their public-school peers today, not kids from 40-50 years ago. In addition to percentile rankings, all score reports include subscores, Lexile levels and detailed learning statements. No need to pay for "premium" scoring!
It's easy to access MAP Growth Testing with Homeschool Boss. Any homeschooler in the US can sign up with our simple online form. Kids test online at home on their own computer or iPad on the days and times their parents choose. Our clients rave about our helpful customer service! Book Now!
You might also like: